The Book of Abraham:
"Except for Those Willfully
Blind, the Case is Closed"
Jeremy Runnells' Response and Rebuttal to
Brian M. Hauglid's Rational Faiths Essay:
Jeremy Runnells and the Book of Abraham
Read Text Here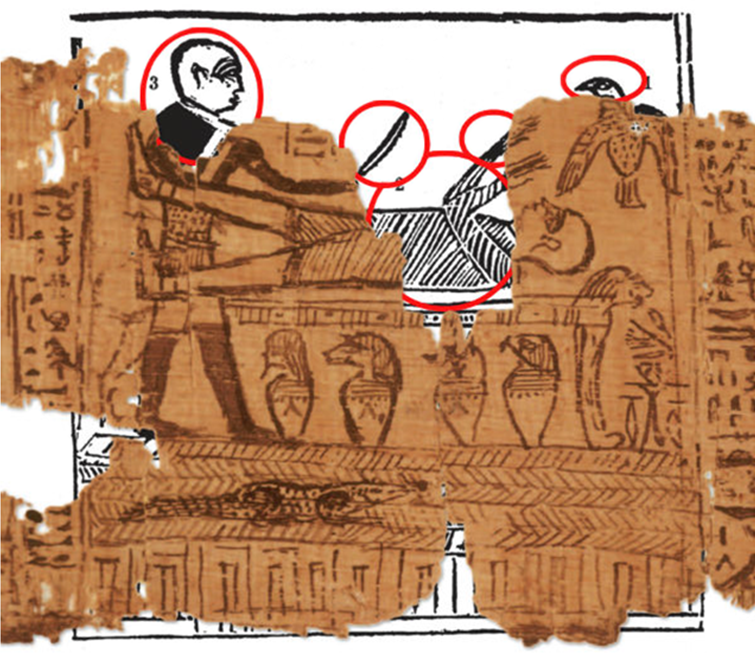 Introduction
Before addressing Mr. Hauglid's essay, I would like to note here that I appreciate Mr. Hauglid's overall respectful tone and approach. Unlike controversial and less respected Mormon apologists, Mr. Hauglid has acknowledged that most of my concerns and questions presented in the Book of Abraham section of the CES Letter are legitimate questions and concerns. Mr. Hauglid is one of the better apologists that I've come across and I appreciate his honesty and frankness on several points.
Turning to the Book of Abraham itself, LDS historian, General Authority and scholar B.H. Roberts wrote of the significance of the Book of Abraham translation:
"If Joseph Smith's translation of the Egyptian parchment could be discredited, and proven false, then doubt would be thrown also upon the genuineness of his translation of the Book of Mormon, and thus all his pretensions as a translator would be exposed and come to naught." - Elder B.H. Roberts, LDS Scholar and General Authority, Comprehensive History of the Church 2:138
Church leadership and Mormon apologists understand this. This is why the recent Church essay Translation and Historicity of the Book of Abraham and Hauglid attempt to shift the focus of the Book of Abraham discussion away from an objective physical analysis of the translation of the papyri to a more subjective spiritual analysis of the value of the book. Some examples from each include:
"The veracity and value of the Book of Abraham cannot be settled by scholarly debate concerning the book's translation and historicity." - LDS Essay
"A careful study of the book of Abraham provides a better measure of the book's merits than any hypothesis that treats the text as a conventional translation." - LDS Essay
"The truth of the book of Abraham is ultimately found through careful study of its teachings, sincere prayer, and the confirmation of the Spirit." - LDS Essay
"One thing I have tried to do all along in this important research is to make sure my focus on academic results does not in any way get tangled up with my spiritual witness of the Book of Abraham." - Brian M. Hauglid
"As far as what to do with the Book of Abraham it needs to be clearly stated that no theory about the Book of Abraham can account for all the evidence. When it comes to questions regarding translation, historicity, 19th century influence, etc. nothing is certain. This leaves it open enough for people to study it out in their own minds and come to their own conclusions." - Brian M. Hauglid
Contrary to Hauglid's claim that "no theory about the Book of Abraham can account for all the evidence," nothing could be further from the truth. There is no need for "theories" regarding the Book of Abraham. It is a demonstrably proven fraud. The physical, historical and Egyptological evidence against the Book of Abraham is so damning that the Church and Mormon apologists have been forced to "move the goal posts."
We're hearing more subjective claims that the truth and legitimacy of the Book of Abraham can "only be found through prayer," "the veracity of the book cannot be found in scholarly debate," and that Joseph may have used the papyri as "catalyst for revelation" instead.
In other words, "translation" doesn't really mean translation, "the writings of Abraham...written by his own hand, upon papyrus" doesn't really mean just that, Joseph didn't really translate from the papyri but it was instead a catalyst for revelation, and don't let the physical and historical evidence get in the way of the only real way to know the truth about the Book of Abraham: "pray about it." Your "spiritual experience" is to trump and override all evidence against the veracity and authenticity of the Book of Abraham and Joseph Smith's claims of its origins.
In addition to making statements and claims like the above, the Church and Mormon apologists are doing everything they can to move the physical into the metaphysical and history into spirituality.
An important component of Hauglid's essay is his disclaimer:
"Suffice it to say, this will not be an exhaustive treatment of Book of Abraham issues, nor will it settle any issues one way or the other."

-Brian Hauglid
Hauglid certainly did not settle any issues nor has he made any real inroads into thinking rationally about the Book of Abraham discussion.
Hauglid surprisingly cites Michael Rhodes, John Gee, William J. Hamblin, Paul Y. Hoskisson and Daniel C. Peterson as credible sources for supporting the authenticity of the Book of Abraham. These men are not credible sources. They're Mormon apologists whose life mission is to defend Mormonism at all costs. Credible sources would be non-Mormon Egyptologists - free of confirmation bias and Church paychecks - confirming Joseph Smith's translations. The fact remains that there is not one single respected non-Mormon Egyptologist - past or present - who confirms Joseph Smith's translations and/or confirms the Church's truth claims on the Book of Abraham.
Fortunately, we no longer have to go to or rely upon Mormon apologists like Brian M. Hauglid, Michael Rhodes, John Gee, William Hamblin, Paul Hoskisson, and Daniel C. Peterson for answers on the problems of the Book of Abraham. The Church took away their personal megaphones and personal theories and made them obsolete with its July 8, 2014 lds.org essay Translation and Historicity of the Book of Abraham.
World renowned and respected Egyptologist Dr. Robert Ritner of University of Chicago published his professional response to the Church's new Book of Abraham essay and claims. I highly recommend reading this response. Dr. Ritner's response highlights some of the weaknesses in the Church's essay far better than I ever could. Suffice it to write here that Dr. Ritner concludes:
"With the Book of Abraham now confirmed as a perhaps well-meaning, but erroneous invention by Joseph Smith, the LDS Church may well devote some reflection to the status of the text. The former Reorganized Church of Jesus Christ of Latter-day Saints, since 2001 renamed Community of Christ, avoids this issue by treating the Book of Abraham as speculative writing by Smith, not as a document of historical truth. In this decision they are clearly correct. Despite its inauthenticity as a genuine historical narrative, the Book of Abraham remains a valuable witness to early American religious history and to the recourse to ancient texts as sources of modern religious faith and speculation. The book still has its uses and significance, but not for the ancient world of Egypt and Abraham."
In addition to Dr. Ritner, the following unbiased experts have reached the following conclusions regarding the Book of Abraham and Joseph Smith's claims:
"The Book of Abraham, it is hardly necessary to say, is a pure fabrication. Cuts 1 and 3 are inaccurate copies of well-known scenes on funeral papyri, and cut 2 is a copy of one of the magical discs which in the late Egyptian period were placed under the heads of mummies. There were about forty of these latter known in museums and they are all very similar in character. Joseph Smith's interpretation of these cuts is a farrago of nonsense from beginning to end. Egyptian characters can now be read almost as easily as Greek, and five minutes' study in an Egyptian gallery of any museum should be enough to convince any educated man of the clumsiness of the imposture." (F.S. Spalding, Joseph Smith Jr., As a Translator, 1912, p. 27)
- Dr. Arthur Mace, Assistant Curator for the Department of Egyptian Art of the Metropolitan Museum of Art in New York"
"It is difficult to deal seriously with Joseph Smith's impudent fraud. The fac simile from the Book of Abraham No. 2 is an ordinary hypocephalus, but the hieroglyphics upon it have been copied so ignorantly that hardly one of them is correct. I need scarcely say that Kolob, &c., are unknown to the Egyptian language. Smith has turned the goddess into a king and Osiris into Abraham."
- Dr. A. H. Sayce from Oxford, England
"They are copies of Egyptian subjects of which I have seen dozens of examples. They are centuries later than Abraham. The attempts to guess a meaning for them in the professed explanations are too absurd to be noticed. It may be safely said that there is not one single word that is true in these explanations." (Ibid., p. 24)
- Dr. Flinders Petrie of London University
"It will be seen, then, that if Joseph Smith could read ancient Egyptian writing, his ability to do so had no connection with the decipherment of hieroglyphics by European scholars...The three fac-similes in question represent equipment which will be and has been found in unnumbered thousands of Egyptian graves...The point, then, is that in publishing these fac-similes of Egyptian documents as part of an unique revelation to Abraham, Joseph Smith was attributing to Abraham not three unique documents of which no other copies exist, but was attributing to Abraham a series of documents which were the common property of a whole nation of people who employed them in every human burial, which they prepared..."
- Dr. James H. Breasted of the Haskell Oriental Museum, University of Chicago
There is no excuse for 21st century Latter-day Saints to remain ignorant, unclear or confused on the facts and problems of the Book of Abraham. We now have the Church's official answers and we now have one of the world's most respected Egyptologist's direct response to the Church's new answers. Latter-day Saints can learn more accurate and pertinent data and information in 2 hours of reading both the Church's Translation and Historicity of the Book of Abraham essay and Dr. Robert K. Ritner's direct response than they would in several weeks of mining through obfuscated unofficial Mormon apologetic materials.
In addition to these two pieces, I would refer the reader to just one additional source. The following video is perhaps the best currently available in objectively outlining and explaining the facts on the Book of Abraham, its origins, its contents and the arguments for and against it:
In this response, I do not intend to address the details on the Book of Abraham (again) or the Church's essay on that subject, as Dr. Ritner's paper and the above video more than adequately do this. Rather, I will quickly respond directly to several of Hauglid's claims and statements.